Importance of home budgeting and ways to do it
The recession of 2007 has resulted in tremendous inflation and it has become very much important to budget your money wisely, so that you can be financially stable and minimize your chances of falling into a vicious cycle of debt. If you can work out the personal budget worksheets and follow it religiously, you will be able to keep your finances under control.
How to create  personal budget worksheets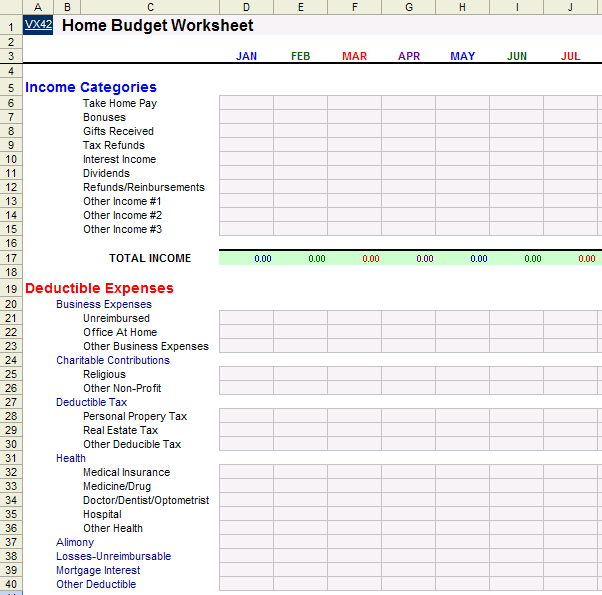 To work out a budget for your household, you need to follow the steps mentioned below:
Find out the total income: You should take into account the total amount of money you earn in a month. It will include your net salary, bonus, tax refunds, dividends, interest income, gifts received, any other form of reimbursements, any other source of income, like having a second job, etc.
Calculate monthly expenses: You should calculate how much you spend in a month by taking into account items like, health related costs (health insurance premiums, medicine, visit to doctor or dentist, etc), deductible tax (real estate tax, personal property tax, etc), charitable contributions, alimony, mortgage interest, household expenses, entertainment expenses for your family, etc.
Save for emergency: You need to set aside a fixed amount of money every month, to save for some emergency situation.
Adjust your expenses: You should adjust your variable expenses in such a way that there will be more amount in the income category and you can save more dollars to secure your financial future.
Review monthly: You should review your personal budget worksheet on a regular monthly basis, to make sure that you are staying on track. You should also verify whether or not your actual expenses are in accordance with that on your created budget. If not, you will have to find out the area where you need to improve. You can also maintain a monthly personal budget worsheet.

Speed up paying paying back your mortgage: Look at mortgage acceleration techniques such as paying back principal early or float your mortgage payments out for a year while investing.

Importance of budgeting
When you are preparing a personal budget worksheet, you are taking into account your income, expenses, financial obligations etc. On the basis of your income, you are assigning money to different expenses, of them some a re fixed and some are variable. This is important because prioritizing expenses is vital. If you do not know which expenditure needs to be given priority, you may land up in serious trouble and may face financial hardship to make your two ends meet. This is when a budget will help you and guide you properly to distribute your earnings to various financial obligations.
You need to take care of the financial security of your family. So, it is very important to work out  personal budget worksheets, as it acts as the deciding point between a financially happy or stressed family.